Monthly Archives: August 2012
…to the Oklahoma City Zoo!
Today is the last day of my vacation and what better way to spend it then $1 admission day at the OKC Zoo!  
The morning started off a little late.  My pre-teen had a tough time getting out of bed.  Then Maggie, my GPS (yes, my trusty GPS has a name) decided it didn't want to leave the house, even though the car did. I couldn't get it to give me directions anywhere!  We actually won Maggie in a drawing 3 years ago, so I guess we've gotten our money's worth out of her! LOL! She's gotten us quite a few places over the years, from Nashville, to Virginia, to San Antonio… now I'm literally lost without her!  Any suggestions on a new one?
I kind of remembered how to get to the zoo, so it ended up being okay.
Here are some pictures from the day…
The rhino exhibits were closed for repairs, so the big pachyderms were inside for the day… thankfully, their house was open to visitors.  They really were not liking being enclosed in these cages!
Below was one of the cutest things I'd ever seen!
It's a pygmy hippopotamus! 
He was so tiny!
Here's Connor with the lorikeets.  They are such friendly birds… especially if you have a little cup of nector for them! 
One of the very coolest things was a peacock!  Not your traditional, colorful one, but a solid white one!  I couldn't stop taking pictures of it!
 Tomorrow it's back to reality… and the 100+ emails that I've missed over this short, 3 day vacation!
Until next time…
Happy Blogging!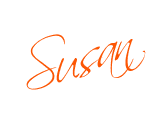 …Razorback style!
We moved into this house nearly a year ago and I've finally started to decorate the kitchen!  
It took me quite a while to decide what I wanted to do, but then the answer seemed so obvious!  
I may now live in Oklahoma, but I'll ALWAYS be an Arkansan and therefore a forever Razorback!
Here's what part of my kitchen looks like now…
  Now… here's what you'll need to make the Hogs sign on the cabinet over the microwave…
 I purchased the wooden letters from Hobby Lobby.  I went several times and apparently "G"s are EXTREMELY popular!
 I also purchased scrapbook paper in various patterns, but keeping the color scheme the same. 
 First, I traced the wooden letter onto the scrapbook paper, then took a pair of scissors to cut it out.  Be sure and use the reverse of the letter on the back-side of the paper. 
 I then used some mod podge glue to adhere the paper to the letter.  After the glue was completely dry (about 24 hours later), I painted another thin coat over the top to seal the paper.
 Still waiting on a "G"!
Turns out, the Hobby Lobby closest to me had an issue when they ordered the letter.  The manager called two other stores and finally found one in a nearby part of OKC.
I was so relieved to see this…
Now… all my letters are complete!
 Next, Rob roughed up some L-brackets with a metal file and I Gorilla Glued them to the back of the wooden letters.  Since Gorilla Glue adheres with pressure, I used a brick (we couldn't find our clamps). 
 We let those dry for about a day, then we were ready for the final step!
Rob cut a piece of 2×4 and drilled each letter into place…
And here's the final product!
I was super pleased at how it turned out and it looks at home sitting on top of my cabinets!
Now, I just need a couple more Razorback items and my kitchen will be complete!
Until next time…
Happy Blogging!