Welcome to Friday! I'm so glad to see you! Here are 5 things I'm loving from this week…
Favorite Fashion: These shoes!


I found Hogcessories on Facebook a while ago and have purchased several Razorback items, such as shirts, jewelry, purses, etc. I've been waiting patiently for my size in these shoes… they are finally back in stock and wouldn't you know it… Lee-Ann put them on sale!! Whoop Whoop! Aren't they adorable! I've already worn them twice this week. Click HERE to visit the Hogcessories Company website.
Favorite Instagram Pic: I love to stalk follow famous people on Instagram… It's so interesting to see them in their every day lives. As I've mentioned before, I'm a die-hard Real Housewives of anywhere fan and I really like seeing the photos they post on a daily basis. Here's one Dina Manzo from the Real Housewives of New Jersey posted earlier this week.


This hilarious cat is named Sir Botox Wrinkles! Isn't he just the most adorable thing ever?!
Favorite Blog Post: This one from The Londoner…


This girl is amazing! Rosie is from London and is continually traveling to new places and I'm living vicariously through her and her blog. She just returned from wandering the streets of New York writing about everything she sees, smells, tastes, feels and hears. Her pictures are incredible, especially her food shots, and it really makes me want to take a trip…anywhere. Visit her HERE.
Favorite Décor Idea: I pulled this shot off Pinterest (follow me there by clicking HERE).


Can you imagine cooking in a kitchen like that?? Holy Cow! I'd never leave that room! This could definitely inspire me to attempt to become a gourmet chef… maybe someday that will be in my dream house!
Favorite Product: Ouidad's Curl Quencher Hydrafusion Intense Curl Cream


For the full story on this one, click HERE and HERE.
I'm linking up with these 5 on Friday folks…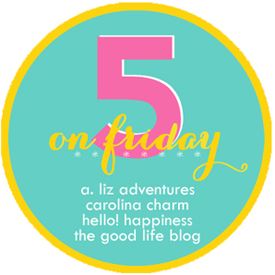 Until next time…
Happy Blogging!

Join me for the Ultimate Blog Party 2014 hosted by 5 Minutes for Mom and sponsored by Pixorial! It's going on now through next Friday! Click the button below for more info….