Let's do the Happy Dance! It's Friday!
Our offices are actually closed today because its Good Friday, but I'm heading into work this morning to get some things done… gotta love overtime!
Good Friday… why do we, as Christians, celebrate this day? Jesus Christ died for our sins on this day…He paid the ultimate debt, the ultimate price, so that we can live eternally in heaven with Him. Today is Friday, but Sunday is coming! This is my most favoritist Friday thing EVER! (I know "favoritist" is not a word, but I don't care, I'm using it anyway) I can't wait until Sunday to celebrate Jesus' resurrection! He is Risen…!
On to my other favorites for this week…
Favorite Fashion: Anything from here…


I have several pieces from The Vintage Pearl… I even got to visit their flagship store in Tulsa for my first birthday here in Oklahoma. It was so cool! Mothers Day is coming up and what better gift to give than something as unique and personal as this…


…or this…


Click HERE to visit The Vintage Pearl.
Favorite Blog: I have loved this blog for a long time…


I actually grew up with her brother, my sister is the same age as her sister and her mother photographed Connor when he was a teeny-tiny thing and then years later, took pictures at the Hubs and my wedding.  Not only is Hannah a model (just LOOK at her!  She's fantastically gorgeous!), she is also super creative and a great home-schooling mom. She also has a side illustration venture called "Little Biscuits"


I highly encourage you to check it out…her talent is phenomenal!  Click HERE to visit Sundry Mumsy and HERE to browse Little Biscuits.
Favorite Instagram Pic: I was disappointed about how terrible my picture of Tuesday morning's Blood Moon turned out, that I did a little hashtag search on Instagram and found this one…


Gorgeous!
Favorite Pin: If I'm not pinning recipes or home design pins on Pinterest, I'm browsing the Hair & Beauty category. This week, this particular pin caught my eye…


I could so pull that off! Right?
Favorite Recipe: This from Monday…


Wicked Good and Easy Pork Chops! Click HERE for the recipe and link.
As usual, I'm linking up!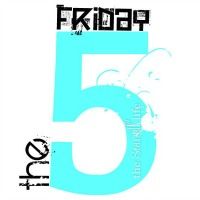 Have a wonderful Easter weekend everyone!

Until next time…
Happy Blogging!

How can I help you?  If you need someone to proofread your blog or copy edit your post before you post it… click HERE.